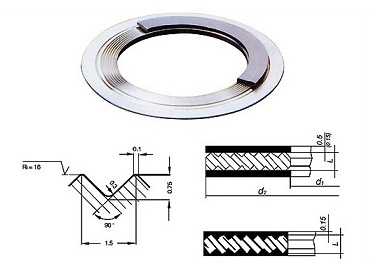 Style KXT1110 Kammprofile Gasket Basic Style
Our Kammprofile/Camprofile Gaskets are semi metallic gaskets that can be used for most applications from low to very high pressure.
The gaskets consist of a metal core with corrugated grooves and a soft layer of sealing material bonded to either face. The corrugated
metal core is a very effective seal in applications where high temperatures, high pressures and fluctuating conditions exist, especially at
high seating loads. The sealing layers protect the flange faces from damage and have excellent sealing properties when supported by
the corrugated metal core.
The Kammprofile/Camprofile Gasket was developed as an alternative to both traditional metal jacketed and spiral wound gaskets.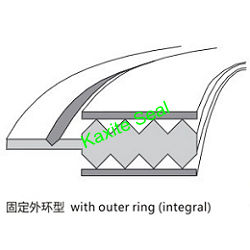 Advantages
• The gasket will not damage the flange surface and can be easily removed
• Reliable sealing performance
• High resistance to severe temperature & pressure variation
• Low initial sealing stress for installation
• Reusable
Cost Saving
• Reduces maintenance costs-thanks to the camprofile gasket's super reliability
and sealing performance
• Excellent production capacity & short delivery time
Application
• Heat Exchanger and Vessel applications
• Small flange widths & damaged flange
• High and low temperatures
• Pressures of up to 250 bar
• Low bolt loads
Materials for metal Core
CoreMaterials

Max Temperature

Core Materials

MaxTemperature

Core Thicknes

SS 316L

550 oC

Inconel 625

450 oC

2mm, 3mm, 4mm

SS 304

550 oC

Incoloy 825

450 oC

Monel 400

600 oC

Hastelloy B-2

450 oC

Nickel 200

600 oC

Hastelloy C 276

450 oC

Inconel 600

900 oC

Titanium

350 oC

Face Materials

Max Temp

Face Materials

Max Temp

Graphite

550 oC

PTFE

260 oC
Standard Size:
Thickness: 3.5mm, 4.0mm, 4.5mm, 5.0mm
We also provides other sizes, for details please contact us or send your inquiry directly to us